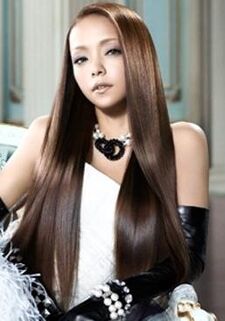 Namie Amuro is a Japanese J-Pop singer from Okinawa, Japan. She is very popular all over Asia. Namie's first single was 太陽のSeason released in 1995. She has been releasing albums and singles from 1995 to this present day.
Name: Maruyama Namie
Stage Name: Namie Amuro (安室奈美恵)
Birthday: September 20, 1977
Birthplace: Okinawa, Japan
Blood Type: O
Height: 158cm
Weight: 40kg
Measurements: 30":23":33.5" / 75cm:59cm:85cm
Ethnicity: 75% Japanese, 25% Italian
Biography
Edit
Early Life
Edit
Namie Amuro was born on September 20, 1977 in Naha City, Okinawa, Japan to her mother Emiko Taira and father. Namie's mother was murdered on March 1999 by Namie's brother in law Kenji Tairo. For Elementary school Namie attended Joto Elementary School then after that she graduated into Ishimine Junior High school. Amuro graduated out of Ishimine Junior High school and then attended Okinawa Actors School.
Music Career
Edit
Namie started her singing career in 1995 with her first single Taiyou no Season and her first album Dance Tracks Vol.1 with the Japanese girl group Super Monkeys. Namie went solo in 1996 with her first solo album Sweet 19 Blues.
Discography
Edit