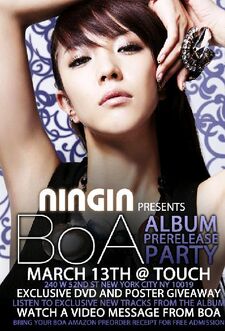 Name: BoA Kwon (권보아)
Birthday: November 5, 1986
Birthplace: Gyeonggi-do, Korea
Blood Type: AB
Height: 160cm
Weight: 45kg
Shoe Size: 22.5cm
Hobbies: listening to music, singing, watching movies, dancing, hip-hop dancing, acting, cross stitching, making accessories for her friends, speaking Japanese & English
Favorite Music: Whitney Houston, Jodeci, Jung-hyun Kim, Seo Taiji, and Nelly
Favorite song: "Hot In Here" by Nelly & The Neptunes
Favorite movie: Men In Black 2 (Men In Black II, MIIB)
Favorite Colors: Beige, Grey, Black, White, Gold, Brown, Dark Colors
Favorite cartoon character: Winnie the Pooh
Favorite drink/beverage: Bubble Tea
Favorite Perfumes: Samurai, NiNa Ricci
Favorite Saying / Proverb: Work hard toward your goals
Biography
Edit
Early Life
Edit
BoA Kwon was born and raised in Korean. She is a very talented singer who sings in Japanese, Korean and even English. BoA started singing at the age of 11 but didn't release anything until the year of 2000.
Music Career
Edit
BoA's first release was ID; Peace B which was her first album released in 2000. Ever since then she has been releasing many albums and singles in Japanese, Korean and English. BoA even made a couple of singles and albums that were all English rather then a Japanese album that had some English in it.
Other Works
Edit
BoA has done modeling, commercials and has sang music for movies, anime, and just regular TV shows. BoA sang the ending theme for the Japanese release of Over The Hedge.
Discography
Edit